Joe from Wimbledon brought his mini alloy wheels into our workshop in very poor condition. Two of the wheels had buckles and all of these wheels were showing extensive corrosion and wear and tear.
Both of these problems can easily be fixed at Diamond Alloys, saving Joe from having to buy new and facing a huge price tag! To fix the corrosion, our guys placed the alloys into our acid bath, which eats away the corrosive damage the wheels have sustained. The wheels are then cleaned and prepped.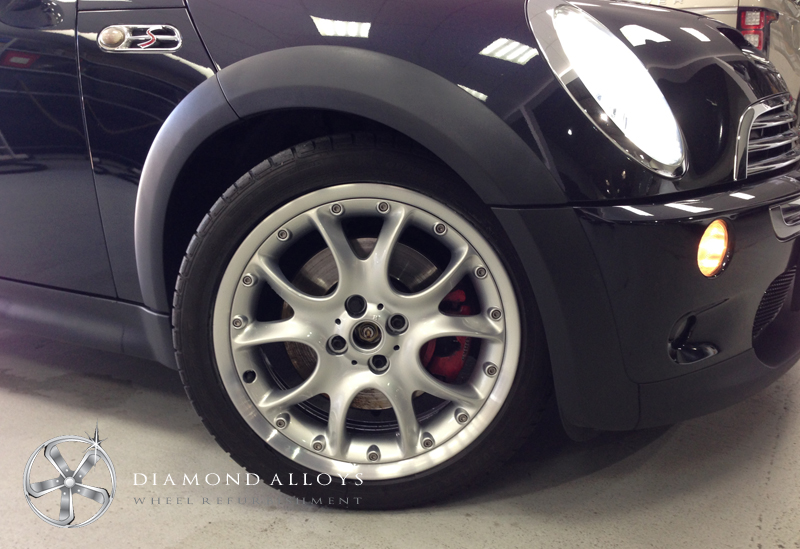 Buckles are a common problem on alloy wheels, usually sustained by driving over potholes and can cause your tyres to loose air and potentially fail an MOT. However, a straightening repair is easy and managed in house at Diamond Alloys ensuring costs and repair times are both kept to a minimum.
Once all damages have been repaired then fun can start! We can repair and refurbish both split rims and cosmetic split rims to produce a look which is unrecognisable compared to when they arrive. Check out the before and after pictures and you will see how the repair and standard painted finish with a Diamond Cut lip brought these 17" mini alloys back to life. The customer requested that he did not wish us to put the caps back on.
The finished result was amazing and our happy customer said "I had very badly corroded split rim multi-spoked alloys on my Mini. Diamond Alloys, and in particular John, were very helpful in talking me through what was involved and assessing what they could do, along with presenting options for me to consider based on my budget.  I was looking for a very high quality finish and came away very happy with the end results.  The wheels looked as good as new with a beautiful finish and the assurance of a one year guarantee on the work.  I would highly recommend them." Joe from Wimbledon.
If you have damaged split rim alloy wheels, then bring them down to Diamond Alloys and we can advise the best finish to give them a great new look. Call us on 0845 370 8881 or get a quick quote here!