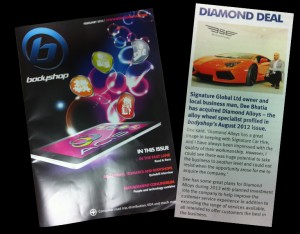 February's edition of the Bodyshop Magazine has just been released and we are delighted to have been featured in their news section.
The Bodyshop Magazine is the industry bible for body shop repairs and alloy wheel repairs so this is a real seal of approval for Diamond Alloys and great that they have given us priority space in their news section. The piece highlights the recent purchase of Diamond Alloys by prestige Car Hire Mogul Dee Bhatia at Signature Car Hire.
Diamond Alloys would like to thank The Bodyshop Magazine for their continued support, which included the feature article which covered the launch of Diamond Alloys in 2012 August issue.