Our technicians get to see some pretty terrible looking alloy wheels, all suffering from common complaints including kerbing, chipping, dents, cracks and corrosion. All of these issues can easily be repaired to an almost as good as new look and for a fraction of the price when compared to buying new.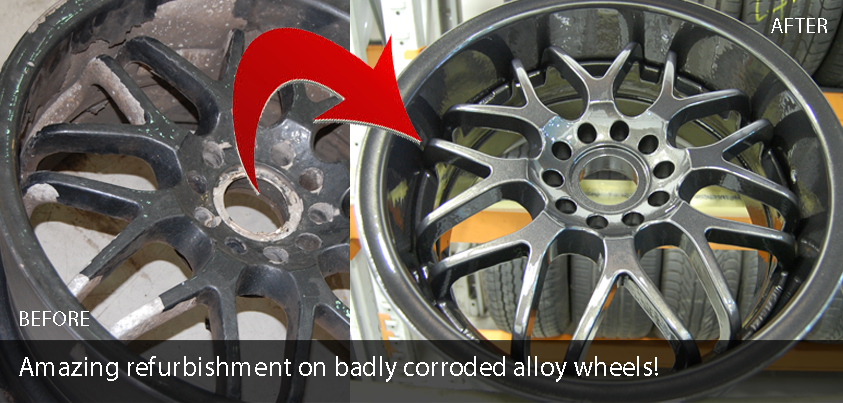 Take a look at these alloys wheels which client David Jones brought in to our London wheel repair centre. As you can see his Nissan wheels were badly corroded, in fact perhaps some of the worst our guys had ever seen! However, with a dip into our acid bath, a thorough clean and some careful preparations the wheels were already on their way to looking good. To ensure a sound and smooth surface was achieve, the wheels were powder coated several times.
Unfortunately the first paint application suffered a reaction giving the wheels a slight hint of purple! This can happen on occasion, especially when wheels arrive in poor condition; however our technicians persevered to ensure the customer received the shiny graphite grey alloys he was expecting.
As you can see from the pictures, the transformation was amazing and our customer was completely satisfied.
If your alloy wheels are badly corroded, don't despair, simply call us on 0845 370 8881 and we will be able to advise the best action to bring them back to life. Can't call, then either email us here or do a quick quote online!