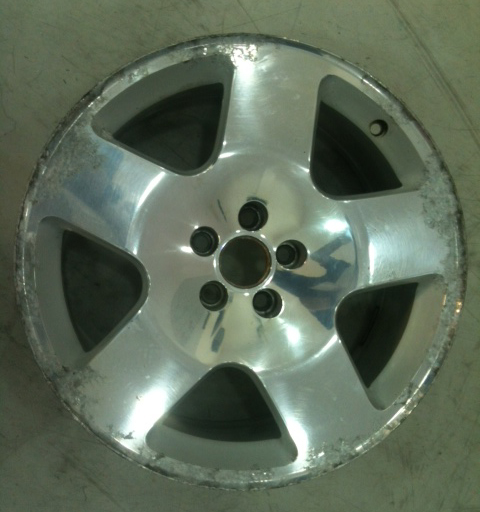 Take a look at these Audi wheels and you will see how bad the damage is around the edge of the rim. This specific type of damage is corrosion and will completely ruin the appearance of your wheel. Corrosion is an electrochemical oxidation of metals; a reaction with an oxidant like oxygen is common on alloys.
Although this damage looks pretty bad it can quite easily be rectified with a refurbishment, so you won't have to outlay huge amounts of money by buying new. These 17" Audi alloys were initially dipped in our acid tank to remove the corrosion damage, and then cleaned in our aquablast machine before being prepped by our guys in the workshop. Once the preparation is complete, our technicians can get to work on giving the alloys a new look.
The alloys originally had a diamond cut face with standard silver paint finish in the inserts, however our customer wanted a new look for his rims and requested that we painted the inserts a more eye catching anthracite grey. By having the dark inserts our clients achieved a striking look which really set of the diamond cut face beautifully.
If your wheels are badly corroded, just send us a picture by email and our guys will take a look and give you the best advice on how you can achieve a stunning new look. Alternatively pop down and see us or give us a call on 0845 370 8881.