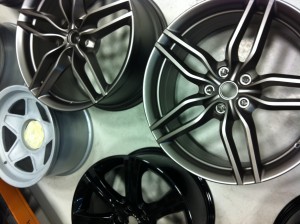 Alloy wheels and steel wheels have always been in a competitive race as to which type of wheel wins with consumers. It can be difficult to choose between the two however alloy wheels have the edge. Here's why:
• Superb heat conduction: Alloy wheels are known for being able to conduct heat properly. This is ideal for drivers who are conscious about the impact that their car will have on the environment.
• Makes the car agile and nimble: The handling of a car is something that motoring journalists are always talking about. This is because it is really important to judge the handling of the car which alloy wheels give with efficiency.
• Stronger: Steel wheels can't compete with how strong alloy wheels are. If you are a driver that prides on having a car that is built on strength, this is especially vital for 4×4 cars or prestige cars that couples and families can use.
• Lightweight: Alloy wheels are lightweight which makes it easy for the car to react to whatever obstacles the car can come across. Alloy wheels can also react to the elements quickly.
• Racing flair: For drivers who want an injection of the track, alloy wheels give them the racer's edge that they require. This is because of how manufacturers have innovated to create wheels that are razor-sharp.
Ultimately, as more alloy wheels are chosen by motorists, it will become more mainstream. For lucky drivers who already know about the innovation that alloy wheels have, enjoying them is simple with Diamond Alloys.  You can choose from a range of alloy wheel refurbishments including a bespoke alloy refurbishment, a standard refurbishment or our most popular service a Diamond Cut. Give us a call on 0845 370 8881 and we can recommend a service for you.