Autumn has finally arrived with winter soon to follow, and with it comes harsher weather conditions which means it's time to brush up on your wheel cleaning regime to ensure your alloys stay in good condition through the coming colder months.
To help you, we've outlined a few hazards associated with the winter season along with some top tips on how to care for your alloys.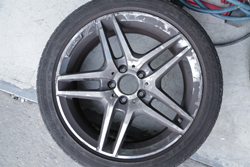 Break Dust
Brake Dust can affect your alloy wheels at any time and should be cleaned regularly, but your alloy wheels are particularly vulnerable in winter because break dust is corrosive and will compromise the protective liqueur layer allowing water to seep in and damage your alloys further. Brake dust can also affect the structural integrity of your rims.
Friction between the brake disks and brake pads causes brake dust to occur which produces dust that sticks to your rims. Brake dust is corrosive, unattractive and difficult to remove and so it is essential to remove it as soon as its takes hold to your alloys.
Preventing brake dust can be achieved with one of the following options; fit low dust brake pads to your car, fit dust shields to your rims or stick to a proper wheel care regime.
Alloy Wheel Cleaning Kit
To achieve the best results it is a good idea to invest in a proper car care cleaning kit and to establish a good cleaning regime. Here's a list of what we advise to have on hand for cleaning your alloy wheels:
Wheel and Tyre Cleaner
Wheel and Tire Brushes
Wheel Detailing Clay
Buckets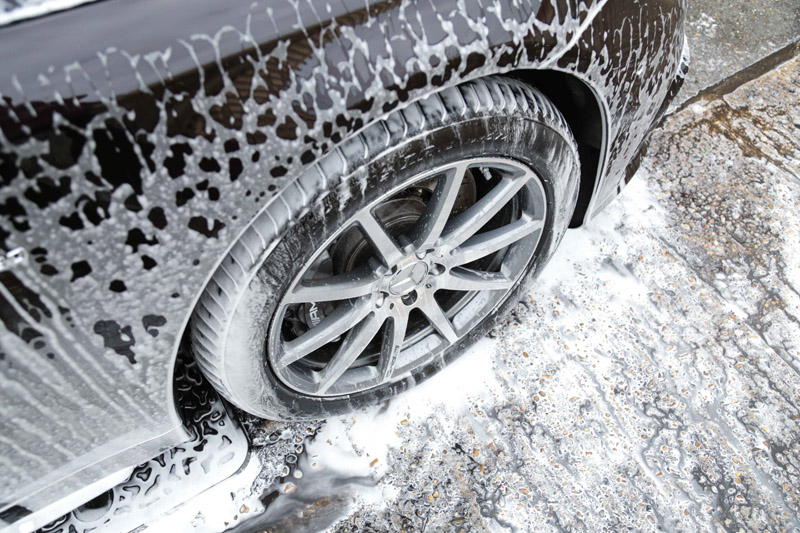 Cleaning Your Alloys
Once you have removed the brake dust and got the kit it is time to give your alloys a thoroughly good clean! Our step-by-step guide below will help you achieve sparkling results and help protect your alloys from winter damage. We do advise washing the wheels before the rest of the car to ensure you don't have dirt and brake dust splashing over your clean bodywork!
1. Clean your tyres and wheel well using specialist tyre cleaner and brush. Your tyre brush should be stiff and should under no circumstances be used on your alloys!
2. Give your wheels a thorough rinse to remove brake dust and dirt. Ideally you want a hard stream of water from a hose
3. Apply the wheel cleaner
4. Scrub the wheel with your soft alloy brush to gently work away the grime and brake dust, without damaging the surface of your alloy. Remember to keep the alloy wet throughout the process and work all around the back and front of the wheel to ensure you scrub off all the dirt. Your clean and dirty water buckets will come in very handy here
5. Rinse everything thoroughly
6. Dry your wheels with a towel to prevent water spots appearing
Clay Detailing
Clay detailing provides a deep shine and gives you peace of mind that residual break dust and another corrosive elements have been totally removed from your alloys.
A wheel detailing clay bar feels a bit like putty when you first touch it. Pick some up from shops like Halfords along with a suitable lubricant and you're ready to clean your alloys like the professionals.
Work in segments of the alloy and spray a small amount of lubricant on the area and then flatten the clay over your fingers and gently rub it over the wheel. Make sure you cover every area, and pay particular attention to any black spots. You'll be amazed at how much dirt you see transferred to the clay! Fold the clay over to create a new 'clean' surface, but don't do this if it falls onto the ground
Once you've made a couple of passes over the area with the clay, give it another spray with the lubricant or a similar detailer and you'll be rewarded with beautifully clean alloys. All you have to do now is give them a final wax or polish, depending on what's more suitable for your wheels, and they'll be as good as new.