Customer Stuart Gregory brought his standard Toyota rims to Diamond Alloys repair and refurbishment centre in West London. As you can see on the pictures they had sustained extensive corrosion damage along with scuffs and scrapes, making them look pretty unsightly! The rims had never been diamond cut before and Stuart asked our technicians if it was possible as he was keen to realise a specific look.
Our guys confirmed that this was indeed possible and so Stuart confirmed he'd like them to be Diamond Cut with a slightly darker insert to highlight their design.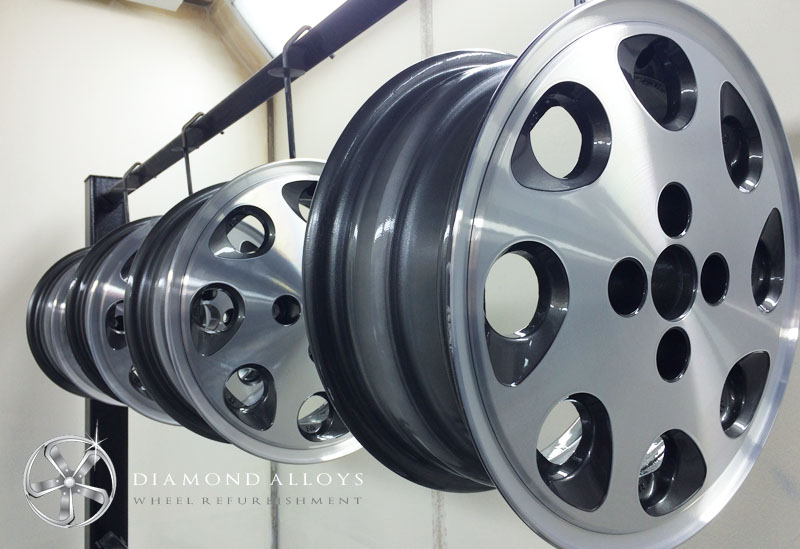 "To celebrate the 30th anniversary year of the Mk1 MR2 I decided it was time to make good the decades old alloys suffering from peeling lacquer and corrosion. Having looked at different options I decided to go with Diamond Alloys because I liked that they had high etch equipment in house and had a professional looking website. So I turned up on Saturday morning with the wheels and after discussing possible options decided to opt for diamond cutting. The wheels were sprayed charcoal grey, surface cut, lacquered and tyres fitted all within a few days so I collected the alloys the following weekend."
The wheels are carefully prepped and painted before the diamond cut was carried out; a process which cuts away the thinnest layer of metal possible to remove any damage. As you can see from the after pictures, the transformation was amazing.
Sasha, in our customer care department kept Stuart up to date on progress throughout the repair and refurbishment emailing him a few images after they had been cut. On receipt of the images Stuart said; "They don't look 28 years old any more! Stunning finish. Thanks for the pictures." 
Stuart also commented: "The wheels were finished to a very high standard with attention to detail such as weights fitted to the inside and short valves. During the coming months she will drive around Silverstone during The Classics weekend and no doubt she will turn heads and strike up conversation more than ever before thanks to the stunning alloys."