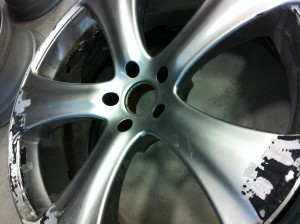 Alloys wheels are a focal point to your car, but every day wear and tear will cause them to degrade, and it's easy to get them scuffed or chipped on a pavement. Have a look at the picture and see how alloys usually arrive at our London Refurbishment Center.
At Diamond Alloys we can offer a variety of different techniques to bring your alloys back to life. If you are looking for a standard silver finish, we recommend our standard refurbishment process.  For something with a little more design, we recommend a Diamond Cut. For those looking for something special, we recommend you talk to one of our highly skilled paint technicians who can meet any of your requests. We have shown here a selection of our latest refurbished alloys wheels, which clearly show how you can make your alloys make a sensational statement and center piece to your car.
Don't forget, we offer re-valve, balancing and re-fitting services for FREE!
To make sure your alloys keep looking their best for longest, be sure to read our advice on caring for your wheels and tyres after a refurbishment too.