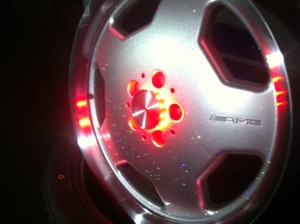 For those of you wanting a bit of extra personalisation on your alloys, check out these AMG  alloys which have custom lights attached.
This client had a custom light unit made to fit the centre of his alloys but still wanted a bespoke effect applied to the wheels to give his alloys the extra WOW factor he was looking for. Our trained technicians were happy to speak with the client to find out what he wanted and then offered some ideas that they thought would work well with these glowing red lights. We are confident you will agree the custom multi coloured glitter effect applied to the stunning silver base coat looks great. Now our happy client can show off his unique alloys knowing he personally designed them.
At Diamond Alloys we work to meet any customer's enquiry. Our latest client knew exactly what he wanted and we were happy to help him to achieve this. If your alloys are looking a bit tired, give us a call on 0845 370 8881 and we can recommend a service for you.