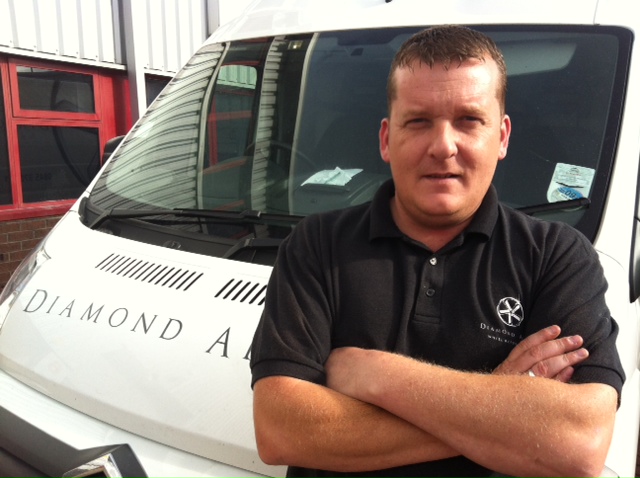 "I love being out on the road, meeting the clients in and around London. The best part is seeing the happy surprise when we deliver so promptly without compromising on the quality workmanship."
Jay's position on the Diamond Alloys team is no happy accident, from day one Director Phil Murdoch was determined to have Jay on board as the driver for the Diamond Alloys van, "I have known Jay for a while and knew he was the man for the job, so kept on insisting he join our team and new business venture."
At his new position in Diamond Alloys, Jay has been put to good use as an asset to the company in all areas of its business, with training in the use of the Diamond cutting machine and in stripping the alloys from the tyres and re-fitting tyres and wheels to the car, Jay is able to pitch in on the refurbishment. But mainly, Jay is here because he's the best man for the job driving the van and delivering the proud results of another day at Diamond Alloys.
In Jay's interview, we asked him all about cars!
If you could have any car, what would it be?
It wouldn't hesitate is choosing a Range Rover Sport because it has levels of comfort that I think cannot be matched and it would also allow and plenty of room for the kids.
What would you do to the alloys?
I would definitely choose a diamond cut for the alloys because I think it's the best finish you can get and they stand out, especially with black inserts on a black range rover.
If you could drive anywhere in your chosen car, where would you go?
If I could drive anywhere it would definitely be to Monaco so I could experience a drive around the Grand Prix circuit!
When out in the Diamond Alloys van, what do you listen to?
I tend to listen to Magic on the radio and I have to admit the rest of the way it would 80s music!
What was your first car?
My first car was a Ford Fiesta, a far cry from my dream Range Rover, but it was all I could afford when it came to the insurance!