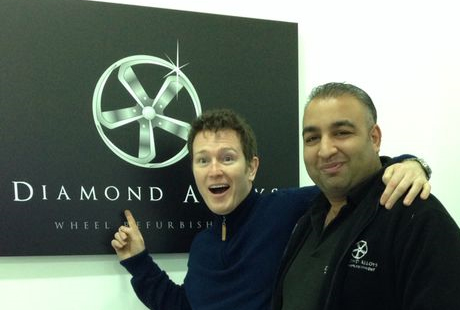 It is not every day you get to meet someone famous, but this week our Workshop Manager Amerjit Ubhi was lucky enough to meet top actor and director Nick Moran, known mostly for his appearance in Lock, Stock and Two Smoking Barrels and Harry Potter the Deathly Hallows.
Pictured here at Diamond Alloys with Amerjit, Nick Moran was given the full guided tour of our alloy wheel refurbishment centre while his alloys were being fitted.
Nick brought his classic Scimitar car into Diamond alloys to have 4 buckles fixed in addition to a new painted finish. Take a look at the finished wheels below and you will see why Nick has such a big smile on his face!
Diamond Alloys can refurbish most alloy wheels and specialises in both classic cars and performance cars. This is the first time we have repaired and refurbished Scimitar wheels, so it was not only an honour to repair these, but also to have such a well know actor on the premises.
See Nick in action in the Lock, Stock and 2 Smoking Barrels trailer below.