We are always keen to show you our best jobs, and we were particularly pleased with these latest alloy wheel repairs. Take a close look at these Lamborghini exclusive alloys, which have been given a mean and moody dark gun metal grey bespoke finish.
With these stunning embellishments we are sure Lamborghini fans won't be disappointed! The Lamborghini Gallardo is one of the most endearing super cars in the world, with its iconic switchblade doors, no imagination is needed to get behind the wheel and feel the power of V10 engine. The finish on these alloys gives to the Gallardo an extra kick of styling for drivers who want all the details to be razor sharp.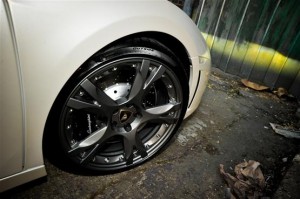 Great for consumers, the Diamond Alloys service is extremely desirable for vehicle dealerships, bodyshop repair companies and leasing/car hire companies. Diamond Alloys works very closely with prestige hire facility Signature Car Hire, who trusts Diamond Alloys to refurbish the alloys of its own supercars.  At Diamond Alloy we offer a professional service to the highest standards and we treat every alloy that comes in with extreme and equal respect to give the best standard all-round. We use the best alloy wheel refurbishment machinery available in the industry which gives an excellent result.
We are well equipped to offer you a great bespoke alloy wheel refurbishment, give us a call on 0845 370 8881 and we can recommend a service for you.