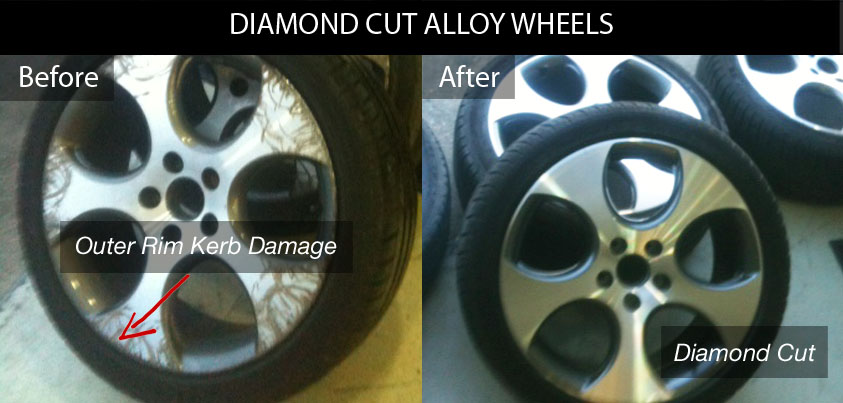 Here is a great example of how badly damaged alloy wheels can get when parking a car too close to a kerb. The scuff marks on the alloy of this VW Golf were extreme and completely destroy the look of the rim, and the car! However, all is not lost and you do not have to go out and buy new alloy wheels; which can be costly. Most scuffs and kerbing damage can be repaired easily, either with a standard painted refurbishment or with a Diamond cut finish. This wheel received the full Diamond cut treatment, where the wheel is cleaned and keyed before cutting on the lathe. This special machine cuts away a thin layer of the metal to the level of the damage, completely removing it and bringing the alloy wheel back to life. The result should be a shiny surface with feint lines across it (a bit like the back of a CD).
One of these alloys also had a buckle, a common problem often caused by driving over potholes too fast. Diamond Alloys can repair buckles, bringing your alloy wheel back to the correct circular shape before any refurbishment is carried out.
Don't despair if your alloys look as bad as these rims did. Having your alloys repaired and refurbished will save you money and give you a great result. If you want a quotation, simple send us a picture of your alloys and we will be happy to give you a great price, and don't forget, have all 4 wheels repaired at the same time and we'll give you a discount!