At Diamond Alloys we are always keen to invest in our future, not only by insisting on using the latest technology and most up to date machinery and techniques, but by also investing in our staff. We are delighted to have introduced an apprentice scheme, ensuring our next generation are well trained and can offer the high level of skills and service that we aspire to at Diamond Alloys.
Commercial Director John Luttrell said, "We are delighted to have Ryan on our team at Diamond Alloys. The apprentice scheme allows us to train the new generation of wheel care specialists and we are proud to support this. All the team wish Ryan the best."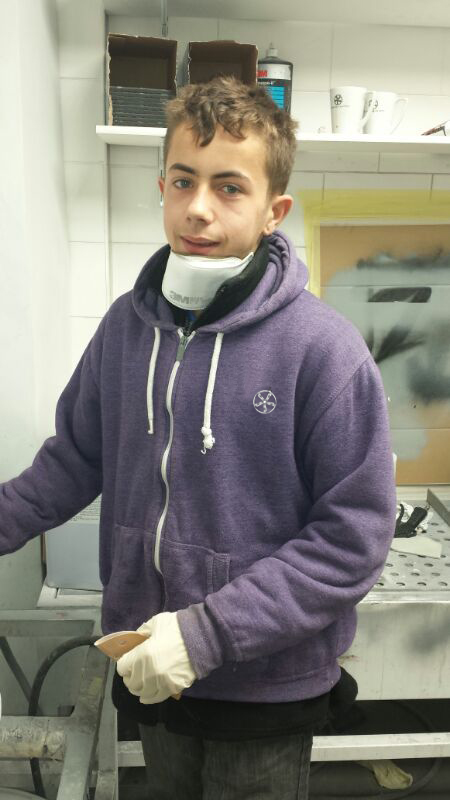 Our new apprentice trainee Ryan wanted to gain experience and knowledge in the alloy wheel trade. He will be taught the basics of aqua blasting wheels, stripping wheels back in acid, prepping the wheels along with day to day care and running of the workshop in order to keep it safe for all members of staff at every stage of the wheel repair and refurbishment process. Ryan is pictured below with Paul our head painter, who ensures Ryan is trained to the highest standards possible.
Ryan is 16 and is not yet sure exactly what field within the wheel trade he wants to specialise in, so the apprentice scheme work well for him as it allows him to learn a skill and see all the different processes needed, so he can decide what area he wants to specialise in. He also plans to go on to college and study in more detail, enhancing the skills he has learnt at Diamond Alloys.
Read Ryan's interview below:
1. How long have you been with Diamond Alloys?
I have just joined the Diamond Alloys team 3 weeks ago, but already feel part of the team.
2. You have started as an apprentice, why did you decide to start your career this way?
I have always had a passion for wheels and it was the easiest way to gain experience and have a good training. 
3. What have you been learning since you have started your apprenticeship?
I have learnt a lot so far, for example how to prep wheels, use the aqua blast machine, basic information about the different types of wheels and the services we offer. I have learnt the difference between a painted wheels and diamond cut.
4. Why did you want to work in a workshop environment?
Because I wanted as much hands on experience as possible and this was the best way.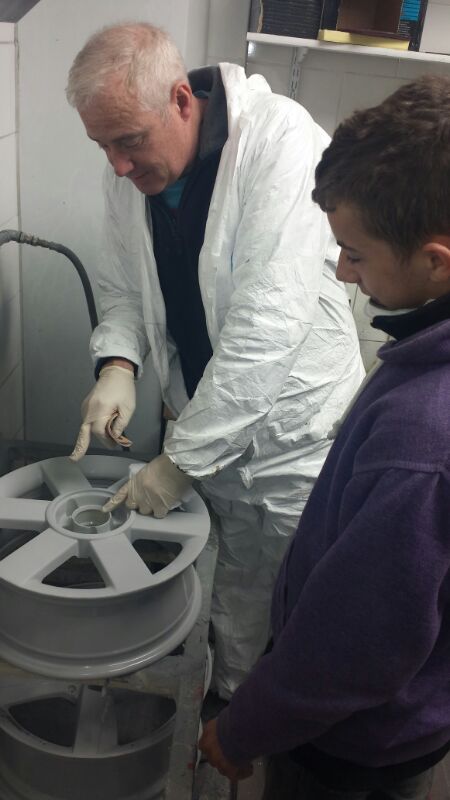 5. What skills you would like to gain at Diamond Alloys?
I would like to gain more confidence and knowledge in alloy wheel refurbishment. I would also like to develop my people skills and improve interaction with others.

6. What do you enjoy most working for Diamond Alloys?
It is nice to work in a team orientated environment.
7. Are you a car lover?
I am more of a motorbike lover, so I was pleased to learn Diamond Alloys also repairs motor bike alloy wheels.
8. Which will be your first car, if you could have any make or model?
I would rather ride a motorbike if I am honest.
9. Which is your favourite Diamond Alloys finish?
I prefer Diamond Cut Wheels because it is the best finish an alloy can get!
10. Where to you see yourself in 5 years' time?
I hope to have gained all necessary qualifications in refurbishing alloy wheels.
11. What do you do in your spare time?
The usual really, I like the simple things going out with my mates.
12. Who is your inspiration?
Alan Sugar!
13. What motives you?
Money! Money! Money!