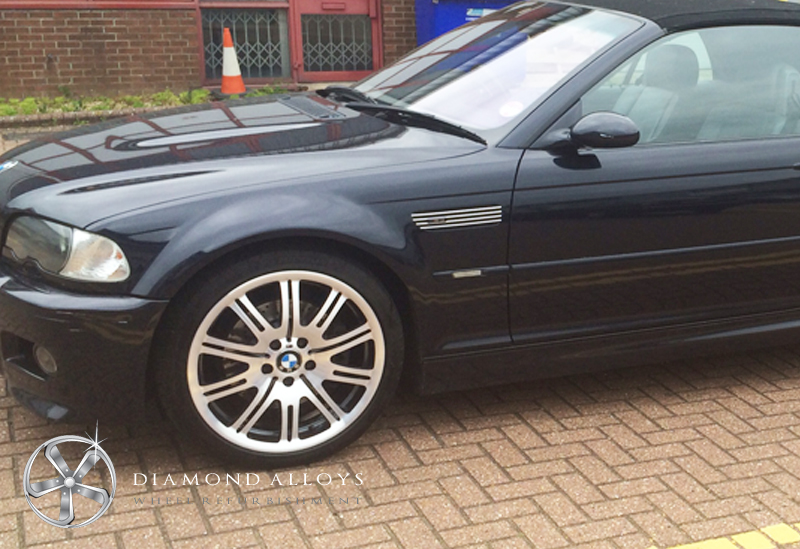 Customer Jay Bansi was so happy with the results of his refurbishment he happily posed for a picture with his completed wheels back on his BMW.
Take a close look at the wheels when they arrived to our London refurbishment centre and you will see they are very badly corroded. In this condition alloy wheels look unattractive and beyond repair, but in fact it is pretty simple for Diamond Alloys to bring corroded alloy wheels back to life.
Out skilled technicians strip back the alloy wheels to ensure all of the corrosion is removed. They are cleaned and prepped before being powder coated (for an even finish) painted before having the face Diamond Cut and their final protective layer of lacquer is added. A Diamond Cut finish really looks spectacular, especially on a alloy wheel design as detailed as this. With dark grey or black inserts the design really pops, so we are not surprised Jay was so happy!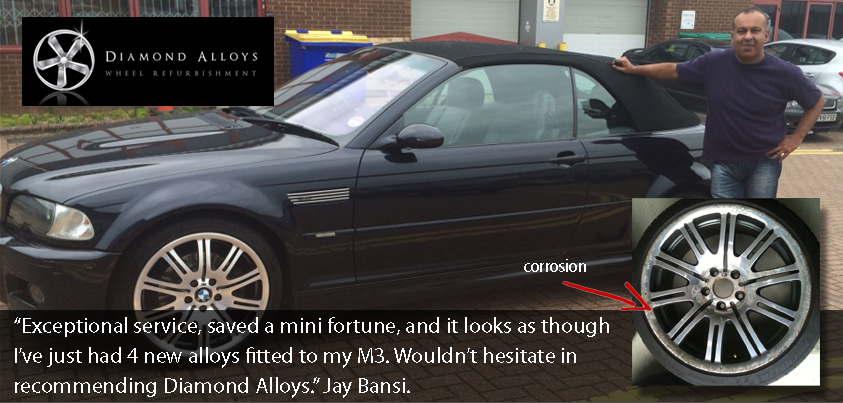 When Jay arrived and saw the alloys on his wheels, he was very happy indeed and said "Exceptional service, saved a mini fortune, and it looks as though I've just had 4 new alloys fitted to my M3. Wouldn't hesitate in recommending Diamond Alloys." All in a day's work at Diamond Alloys!
If you have badly corroded alloy wheels, don't despair, Diamond Alloys can repair and refurbish then, giving them a new lease of life and extended life span. Call us now on 05845 370 8881 or get a quick quote here.