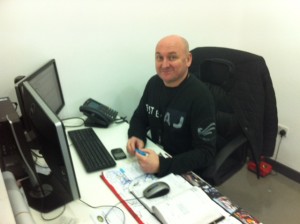 1. What do you do at Diamond Alloys? What are your daily roles and responsibilities?
My daily roles include answering the phone and replying to any email enquiries. I am also responsible for booking work in and making sure work is completed on time and to an exceptional standard of quality.
2. In your new role as Office Manager, what improvements will customers now benefit from?
It's a very exciting time for Diamond Alloys and for me. I am very much looking forward to implementing the new systems and procedures which I know will benefit the customers. It means I will be on hand during the day to answer customer queries quickly and directly. I hope I will be able to advise customers what finish is best for them so they can leave Diamond Alloys not only satisfied but so happy the recommend us to a friend!
3. What else can customer benefit from?
We have already offered customers a better pricing structure, with discounts if they have 4 wheels refurbished at the same time, so the changes have started already! Customers can also look forward to better finishes for their alloys and a better all-round service. Working front of house I will be pushing for better customer service, efficiency and implementing better systems to ensure alloys get back to our customers asap.
4. What happens out of Hours?
Customers can rest assured that we will get their call or email. We have an out of office hours call centre service to take calls in the evenings and weekends (the same number applies, 0845 370 8881), which are followed up as soon as the office opens. Alternatively all customers can email sales@diamondalloys.co.uk or get a quote on-line! We plan to implement lots of new systems during 2013 to help customers even more, so watch this space!
5. How did you get into the alloy wheel repair business?
I was a customer of Diamond Alloys! They had done lots of repairs for me and I was always happy with the work received. When a position became vacant at Diamond Alloys I jumped at the opportunity and was delighted when I was accepted.
6. What did you do before?
Before working for Diamond Alloys I used to sell cars, so sort of in the same industry as this.
7. What was your worst job?
This One!!  Not really. I think I must be lucky because I have enjoyed all my previous jobs.
8. What tempted you to a change of scenery?
I have worked in cars sales for a long time and wanted to have a change, however I did not want to leave the motor trade sector so this opportunity was ideal for me.
9. What's the best part of your job?
I get job satisfaction out of seeing people bring in a grotty old set of wheels and then to see the look on their face when they see the finished article.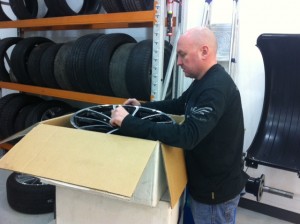 10. What question do you get asked most about wheel repairs from customers?
I often get asked what the Diamond Cut process is and also if we can offer better prices.  The Diamond Cutting process is a premium service that offers the finest finish for your alloys, because we don't compromise on service or the finish we don't offer cut prices and would advises customers to be wary of those that do! We can however offer a better price if you book all 4 wheels at the same time.
11. What keeps you out of trouble in your spare time?
What spare time…………..I have a Wife & two children!! I have been known to have the odd sociable alcoholic drink or two.
12. Are you a car fan?
Yes I have always been mad on cars, hence why I don't want to leave the industry.
13. What is your dream car, where would you drive it if you had it for 24 hours and who would be sitting beside you?
I love Big V8 Australian saloon cars & 1960's American muscle cars but I think my favourite would have to be a Holden W427 HSV & I would have my wife sitting beside me (Just in case she reads the article).
14. Which alloys would you choose for your car?
I would go for something subtle probably 22" powder coated in Black or grey.
15. Sum up in a few words why people should use Diamond Alloys?
People should use Diamond Alloys because we have a modern well equipped workshop,  a well-trained team of friendly professionals who care  about the customers wheels as much as we do.