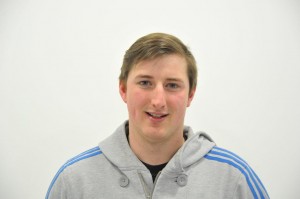 1 How did you get into the alloy wheel repair business
I knew Phil, and was interested in the alloy wheel repair trade so Phil took me on as an apprentice at his previous company and I learnt the trade, picking up a specific interest in the custom side. 
2 Where did you train?
I trained locally at the Solus Hayes & Thatcham College, picking up the relevant qualifications I needed to specialise in this area of speciality.
3 What do you specialise in (what process) and why?
As mentioned, I really picked up a love for the custom paint side of this industry, I could see there was a lot of scope to apply a wide range of paint finishes allowing me to try new things and be be creative.
4 Have you won any awards?
I have! My dedication to this specialist area of alloy wheel refurbishment saw me push the boundaries of what could be achieved resulting in being awarded the ' Young Painter of the Year 2008' from the Bodyshop Magazine, which I am very proud of.
5 What's the best part of your job
Absolutely the end result. I get a lot of satisfaction of seeing what I can achieve from different paint effects. It's really great to discuss all the options with a customer to ensure they get something that will look great on their car, which is very rewarding when they see and like the results too.
6 What's your favourite specialist paint technique and why?
Of all the different effects I have applied, I would say that painting water droplets is my favourite. There really are few limits when it comes to adding effects, so it is great when a client wants to try something a little bit different like this.
7 What's the most unusual request and why?
I would say a Diamond cut lip where the inner part of the wheel is black & the centre of the wheel is finished with a silver metal flake. It did look amazing.
8 What's the hardest technique?
Probably Metal flake. You really do have to be an experienced paint technician to attempt this. Techniques vary depending on the specific requirements, but in essence the metal flakes are mixed into a clear coat and sprayed on the alloy wheel over a colour basecoat, followed by several coats of non-flaked clear, plenty of colour-sanding, and then even more clear.

9 What new and exciting techniques are on the market at the moment or coming soon?
Water transfer, or hydrographics are perhaps the most exciting alloy wheel custom finish technique on the market at the moment. It's a great way of adding an image (rather than a paint effect) to the alloy, so really suited to car owners looking for something completely different. It can be subtle like a carbon fibre finish for example, or something completely over the top like dollar bills!
10 If you could drive any car for the day, what would it be, who would be your passenger (anyone in the world dead or alive) and where would you take them and why.
Without a doubt a Shelby Mustang GT500. I'd drive to the Nurburg Ring Germany and take  actress Amber Herd.
10 What do your alloys look like?
I have opted for something striking but subtly to accentuate my car. My choice is powder coated black.
11 What do you think of the boss?
Nothing that could be printed!!! Ha ha, only joking. Phil  is more of a friend than a boss.