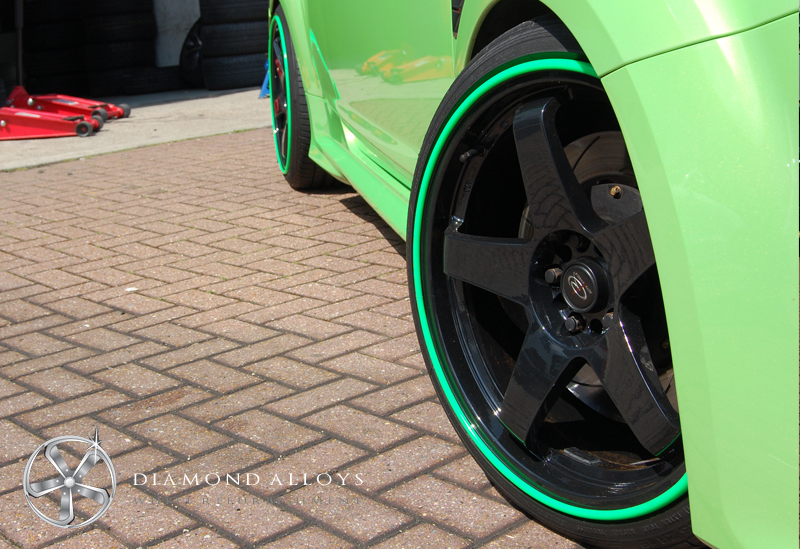 Many customers come to Diamond Alloys to get their alloy wheels repaired, eliminating ugly scuffs and scrapes which can easily occur when parking against high kerbs. However, we also have customers come in to our London based alloy wheel refurbishment centre just to get a new look for their alloys.
Take a look at these pictures and you will see a great example of how having your alloys painted with a new colour can bring your car to life. Customer Kevin Parfit wanted a standard painted refurbishment on his alloys with lime green Rim bands to match his unlimited green Ford Focus.
The gloss black alloys look stunning against the brilliant green of Kevin's car and the addition of the rim bands makes stunning finishing touch to the overall look. They are practical too and protect the edges of your alloy wheels meaning that future kerbing damage is reduced. This prolongs the life of your alloys as it can help ensure the protective lacquer layer is not compromised. If the lacquer is damaged and water is allowed to seep underneath this can cause your alloys to corrode.
We can add a colourful selection of rim bands to your car, available in black, blue, lime, orange, pink, red, silver, white and yellow there is a colour to suit most tastes and cars. At only £50 for a pack of 4, they will help protect your car potentially saving you money off future repair bills. Fitting rim bands is free of charge at Diamond Alloys if you are booked in for a repair or refurbishment. Call 0845 370 8881 for more details.