Alloy wheels look great but kerbside damage scrapes and chippings from the road can damage your wheels. This can seem quite daunting as a new set of alloys can cost hundreds of pounds. However, there is a much more cost effective solution available to solve the problem: refurbishment your alloys.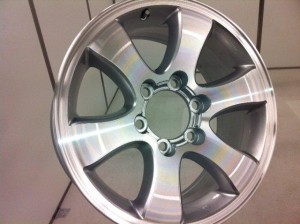 At Diamond Alloys, we offer a wide range of alloy wheel refurbishments including a bespoke alloy refurbishment, standard refurbishment and our most popular Diamond Cut service.
The Diamond cut process involves removing a small amount of metal from the wheel using a very precise specialist machine.  The way to tell if your alloy wheels have been diamond cut is if the faces of the wheels are very shiny- almost like the back of a CD.
A Diamond cut finish is not possible on all cars, in that case you can opt for a painted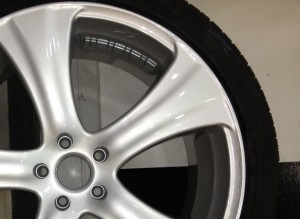 refurbishment. The wheel is repaired first, usually with a filller where kirbing has damaged the wheel, it is then covered in a coat of wet paint, then covered in a protective lacquer, which also gives the wheel its shine. The big advantages of this type of wheel is that if you damage your wheel it's easy to refurbish it, instead of Diamond cut wheels that can be refurbished just a number of times.
Whether you choose for a Diamond Cut or a standard refurbishment, alloy wheels need care and attention to keep them looking stunning, so we advise to check out our cleaning tips.