"Only 4,000 miles on the clock and one careful owner". This kind of phrase is liable to send a shiver up many a potential car buyer's spine. When you buy a second hand car, particularly from a car auction, you have to accept that it could come with some flaws, no matter how carefully you look. Sometimes, obvious cosmetic defects will allow you to grab an absolute bargain – mainly because the owners don't realise how quick, cheap and easy they are to fix.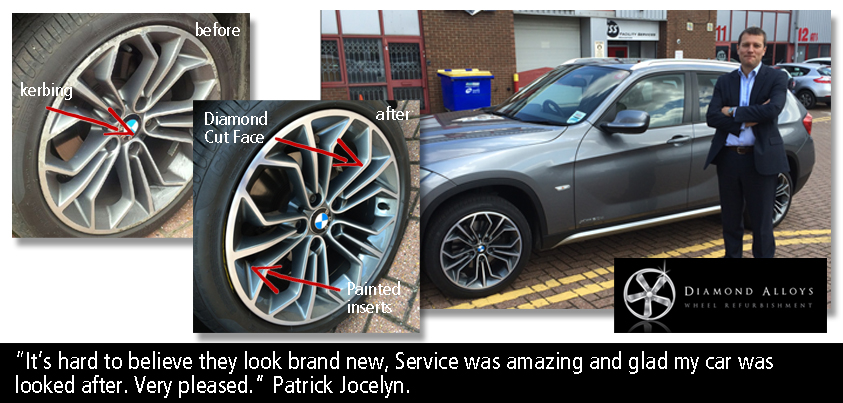 Take alloys, for example. Whether the car has one, two or indeed an entire set of alloys that are dented, scuffed or scratched, it can make a car look tired and significantly reduce the sale value. The cost of replacing the alloys may have been off-putting for the previous owner, but you don't have to make the same mistake. Diamond Alloys can repair and refurbish damaged alloys, allowing you to make a significant cost saving and get your second hand car looking as if it's just rolled out of the dealership.
One of the services we offer is Diamond Cutting, which uses precision tools to remove only what is necessary from the rims. The process starts with a specialist pressure wash, which removes all dirt and allows us to better survey the condition of the wheel. After this, we cut the wheel to remove all the damage, leaving a smooth finish that shines. Finally, our technicians coat the rim with scratch proof lacquer and bake the alloy to seal the coating. When the alloys are refitted, we balance the tyre and restore it to the correct pressure, allowing you to drive away with peace of mind that your wheels are in the best possible condition.
Diamond Alloys have a service for almost every alloy damage: even if your alloy is buckled, for example, we have specialist hydraulic techniques that will straighten them out to their original shape.
Call our experts today to find out how our alloy repair service can make your second hand car look as good as new.