There is no better recommendation than direct from a client, and we were delighted when Nik Garrad came to collect his Chevrolet alloys and said 'WOW!'
Nik's alloys were a standard silver colour which he felt could be improved with a new look. Nik requested a satin black standard paint finish with the added detail of orange rim bands to co-ordinate with his car and add the extra detail he was looking for. Not only do they look great, but the rim bands add extra protection to the rims ensuring they last longer against every day wear and tear which can occur when parking close to high kerbs.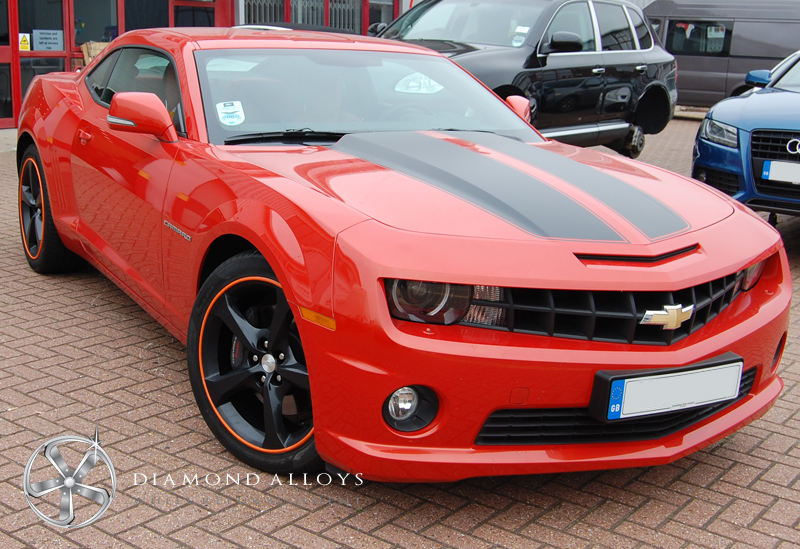 On collection of the vehicle, Nik said "Thanks for the top service that I received at Diamond Alloys. From the reception staff to the guys in the workshop the service at Diamond Alloys was spot on… and the results 'WOW' – love the look of my new alloys with the accent of colour from the rim bands. I would totally recommend Diamond Alloys on all counts!"
Thanks Nik for these great comments and for letting us share pictures of the alloy wheel transformation completed in our London alloy wheel refurbishment centre.
If you want to achieve a new look for your alloys, simply give us a call on 0845 370 8881 and we will be happy to advise on all our services to help achieve the new look you want. Alternatively, email us here or complete a quick quote on-line.
We can add a colourful selection of rim bands to your car, available in black, blue, lime, orange, pink, red, silver, white and yellow there is a colour to suit most tastes and cars. At only £50 for a pack of 4, they will help protect your car potentially saving you money off future repair bills. Fitting rim bands is free of charge at Diamond Alloys if you are booked in for a repair or refurbishment.