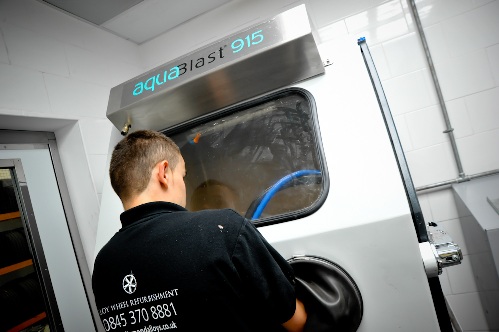 Diamond Alloys have been featured as a case study on the website for Aquablast machine manufacturer Vixen Surface Treatments.
Vixen approached us for a testimonial on their Aquablast machine, as they were interested in exploring the machine's alloy repair application for their website. This lead to their taking an in depth look at Diamond Alloys for a case study in how we use the Aquablast. The article talks about how the alloy washing process used to involve a lot of elbow grease, as the wheels had to be laboriously hand washed, and goes on to say how much time we saved by investing in an Aquablast – whilst imporving our strict high standard of quality.
The article includes a quote from Phil Murdoch, who says "We have been very impressed with the Aquablast machine. It is quicker than traditional methods and produces a better surface preparation result which in turn has improved our overall efficiency and finish to the work we carry out. We found it a good investment being far more cost effective and would not hesitate in recommending this product."
It is great to be noticed for what we do, providing a quick and expert alloy repair and customisation service, and we couldn't be happier with being a case study for Vixen Surface Treatments.