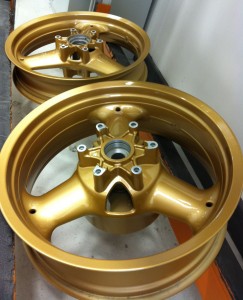 Our highly skilled alloy wheel repair technicians can cater for many different requests when it comes to refurbishing alloys wheels, including creating some stunning custom affects for your rims.
We can even go one step further and offer a repair and refurbishment service for your motor bike alloy wheels too. Take a look at the stunning gold alloys we just refurbished for happy customer Peter.
Peter contacted Diamond Alloys to see if we could help restore the alloys on his Triumph Daytona Special Edition 1200, and we were more than happy to help.
Peter said "My bike was written off some time ago so this has been like a project for me to fix it and put all back together. I was very pleased with the wheels."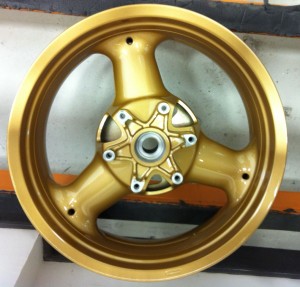 If you have motor bike alloy wheels that need a new look, give us a call and we will be happy to advise what we can do to help restore them to their former glory. Or perhaps you want to go for a new look, like Peter did with his stunning gold alloys.
Check out our prices here and see how you can save money by having all 4 motor bike wheels refurbished at the same time.