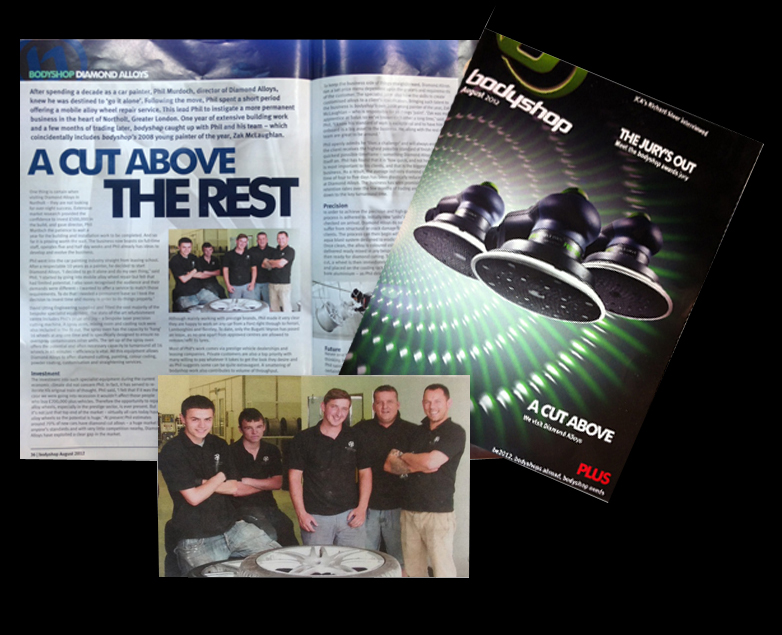 At Diamond Alloys, we are always looking for different ways to bring in audiences so we were delighted when we were contacted by Bodyshop Magazine for an article to feature in their August 2012 edition.
Mark Hadaway, editor of Bodyshop, came to visit the Diamond Alloys team at our West London Alloy Wheel Refurbishment Centre to carry out an in depth interview with Diamond Alloys Director Phil Murdoch. Mark was keen to highlight all the services we offer and how we established and built our business to becoming number one in the Alloy Wheel Refurbishment industry so quickly.
One of the key questions Mark had for Phil was how Diamond Alloys was started and what motivated him to want to create a company that offered a premium service and a range of high quality finishes. Phil said. 'I started by going into mobile alloy wheel repair but felt that had 'limited' potential. I also soon recognized the audience and their demands were different – I wanted to be the person to offer a service to match those requirements. To do that I needed a permanent base so I took the decision to invest time and money in order to do things properly.'
Mark was also keen to quiz Phil about paint technician Zak McLaughlan and why he was such a key member of staff to be on board. Phil said "Zak was my apprentice at Solus so we've known each other a long time,' said Phil. 'I know his standard of work is exceptional and to have him on board is a big asset to the business. He, along with the rest of the team are great to be around." Zak won the Medal of Excellence for the Best Painter in 2008; his speciality painting techniques and bespoke custom finish services in addition to the 24 hour service we offer on Diamond Cutting are all reasons why Diamond Alloys is already standing out as the best on the industry.
We were delighted with the article, especially as Mark clearly outlined how it's not just our highly trained and experienced technicians that are excellent, but it is also our service which is winning over new customers on a daily basis.
The August edition of the Bodyshop magazine is out now, so pick up a copy and be the first to read!