We recently announced on our news page that we had featured in the August issue of Bodyshop magazine. Here is the article in full.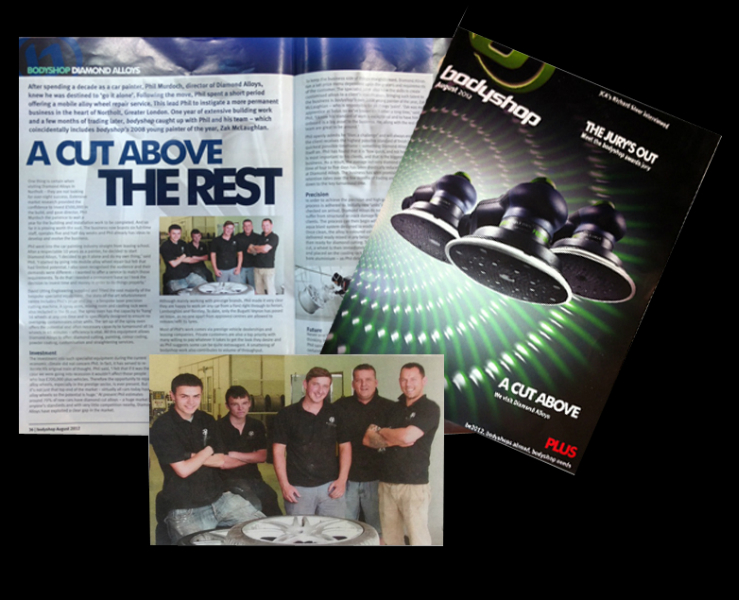 After spending a decade as a car painter with Solus, Phil Murdoch, director of Diamond Alloys, knew he was destined to 'go it alone'. Following his decisive move, Phil spent a short period of time offering a mobile alloy wheel repair service. However, the ever-increasing demand and various limitations associated with such a service lead Phil to instigate a more permanent business in the heart of Northolt, Greater London. One year of extensive building work and a few months of trading later, bodyshop spent the morning catching up with Phil and his team – which coincidentally includes bodyshop's own 2008 young painter of the year, Zak McLaughlan.
One thing is certain when visiting Diamond Alloys in Northolt – they are not looking for a short-term over-night success. Extensive market research provided the confidence to invest £500,000 in the build, and gave director, Phil Murdoch the patience to wait a year for the building and installation work to be completed. And so far it is proving worth the wait. The business now boasts six full-time staff, operates five and half day weeks and Phil already has ideas to develop and evolve the business.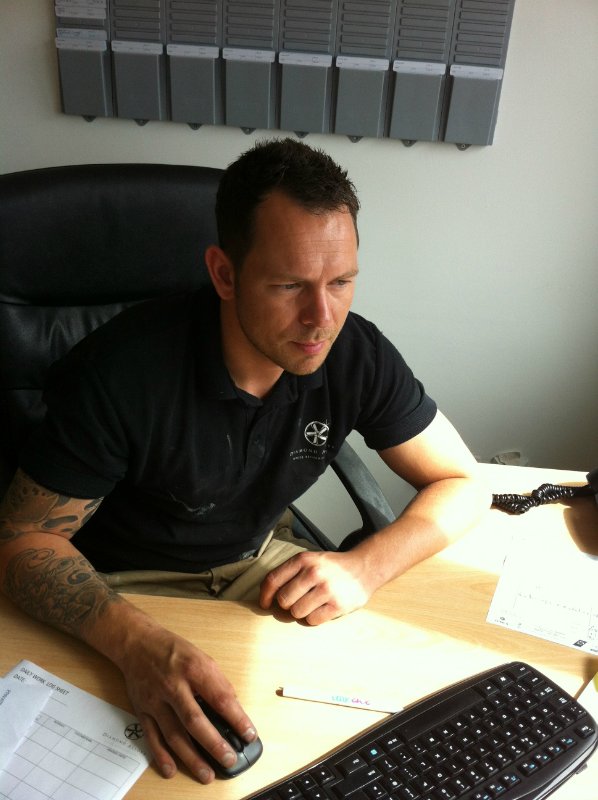 Phil went into the car painting industry straight from leaving school. After a respectable 10 years as a painter, he decided to start Diamond Alloys. "I decided to go it alone and do my own thing,'" said Phil. "I started by going into mobile alloy wheel repair but felt that had "imited' potential. I also soon recognized the audience and their demands were different – I wanted to be the person to offer a service to match those requirements. To do that I needed a permanent base so I took the decision to invest time and money in order to do things properly."
Specialist
David Utting Engineering supplied and fitted the vast majority of the bespoke specialist equipment. The state-of-the-art refurbishment centre includes Phil's pride and joy – a bespoke laser precision cutting machine. A spray oven, mixing room and cooling rack were also included in the fit out. The spray oven has the capacity to 'hang' 16 wheels at any one time and is specifically designed to ensure no overspray contaminates other units. The set-up of the spray oven offers the potential and often necessary capacity to turnaround all 16 wheels in 45 minutes – efficiency is vital. All this equipment allows Diamond Alloys to offer: diamond cutting, painting, colour coding, powder coating, customisation and straightening services.
The investment into such specialist equipment during the current economic climate did not concern Phil. In fact, it has served to re-iterate his original train of thought. Phil said, "l felt that if it was the case we were going into recession it wouldn't affect those people who buy £200,000 plus vehicles. Therefore the opportunity to repair alloy wheels, especially in the prestige sector, is ever present. But it's not just that top end of the market – virtually all cars today have alloy wheels so the potential is huge." At present Phil estimates around 70% of cars on the road have diamond cut alloys – a huge market by anyone's standards and with very little competition nearby, Diamond Alloys have exploited a clear gap in the market.
Prestige
Although mainly working with prestige brands, Phil made it very clear they are happy to work on any car from a Ford right through to Ferrari, Lamborghini and Bentley. To date, only the Bugatti Veyron has posed an issue, as no one apart from approved centres are allowed to remove/refit their tyres.
Most of Phil's work comes via prestige vehicle dealerships and leasing companies. Private customers are also a top priority with many willing to pay whatever it takes to get the look they desire and as Phil suggests some can be quite extravagant. A smattering of bodyshop work also contributes to volume of throughput.
One business Phil works closely alongside is Signature Car Hire – a prestige car hire facility a stone's throw from Diamond Alloys HQ. Signature Car Hire has been using Diamond Alloys for all its alloy wheel refurbishment work since it opened earlier this year and has been very impressed with the results. Dee Bhatia, Director at Signature Car hire said, "Our cars consist of some of the most premium marquees and models in the world and must remain showroom condition at all times, so it is important our alloys are refurbished to the highest standards at all times as this reflects on our brand and business. We have always been impressed with Phil's quality of work, and also his speedy and professional service. We are especially impressed with their diamond cutting service, which we use as standard for most of our rental vehicles."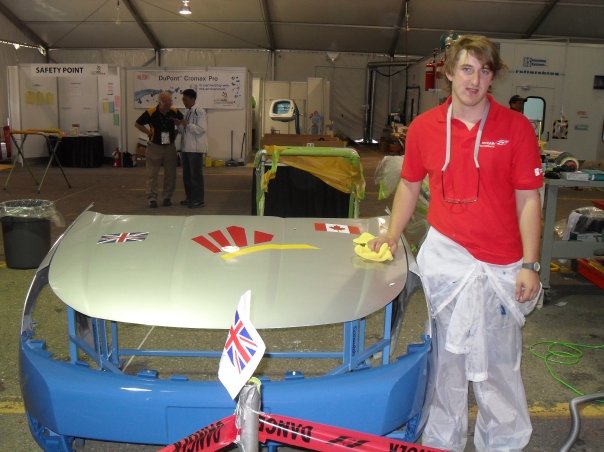 Requirements
To keep the business side of things straightforward, Diamond Alloys run a set price menu dependent upon the process and requirements of the customer. The specialist team also have the skills to create customised alloys to a client's specification. Bringing such talent to the business is bodyshop's own 2008 young painter of the year, Zak McLaughlan – who is responsible for all things 'paint'. 'Zak was my apprentice at Solus so we've known each other a long time,' said Phil. 'I know his standard of work is exceptional and to have him onboard is a big asset to the business. He, along with the rest of the team are great to be around.'
Phil openly admits he 'likes a challenge' and will always ensure the client receives the highest possible standard of finish in the quickest possible timeframe – something Diamond Alloys pride themselves on. Phil has found that it is 'how quick, and not how much' that is most important to his clients, and that is the biggest driver for the business. As a result, the average industry diamond cut turnaround time of four to five days has been drastically reduced to 24 hours at Diamond Alloys. The business has seen promising customer retention rates over the few months of trading and he believes this is down to the key turnaround time.
Precision
In order to achieve the precision and high quality of finish, a clear process is adhered to. Initially new units or alloys are quality checked on arrival. Diamond Alloys do not deal with wheels that suffer from structural or crack damage for the safety benefits of their clients. The process can then begin with a thorough cleansing in the aqua blast system designed to eradicate all surface contaminants. Once clean, the alloy is coloured using waterbased paint that is delivered ready mixed in any bespoke colour required. The wheel is then ready for diamond cutting. To protect from scratching, after the cut, a wheel is then immediately lacquered twice in the spray oven and placed on the cooling rack. The lacquer is designed to adhere to bare aluminium – as Phil describes 'a bit like a resin'.
The alloy is subsequently polished and undergoes a quality control check before the tyre is refitted or a new once sourced, at the request of the customer. Always aiming to deliver the highest standards, the wheel is subject to a digital balancing and a final quality control check before being personally delivered back to the customer.
Powder coating is another popular process Diamond Alloys offer. This is especially suited to older alloys and is also more effective for complicated jobs. Currently the process is outsourced but it is something Phil is considering for the future. Turnaround times can be a little longer with powder coating due to the process involved. After being chemically stripped and shot blasted to remove residues, the wheel is powder coated in three stages – priming, colour application and lacquer finished. The powder melts onto the wheel providing a full cover, perfect for alloys with multiple spokes.
Future
Never one to become complacent, Phil is consistently forward-thinking into the future. Speaking about Diamond Alloys' reputation, Phil said, "It can take years to build it, but days to ruin it", which he certainly has no intention of doing. Currently, the centre is seeing an average of 100 wheels a week being refurbished. Within the next two months, Phil would like to see this figure increased to 150 – but the dreams do not stop there. When demand increases enough, which the team are confident it will, then Phil plans to expand into the unit next door.
There are also big ideas to run a 24 hour shift, so turnaround time is even quicker. As Phil explained, "The biggest driver for us is volume and the demand for quick turnaround times". The refurbishment centre has been custom designed and built to ensure the flow of work from stripping back to finishing is efficient. In the future, Phil would ideally like to implement two systems – fast track and powder coating. By running an effective 24 hour shift and fast track system together, Diamond Alloys will see their weekly targets sore.
If you need your alloys refurbished or if you have a custom request, make sure you give us a call on 0845 370 8881 or email us at sales@diamondalloys.co.uk.