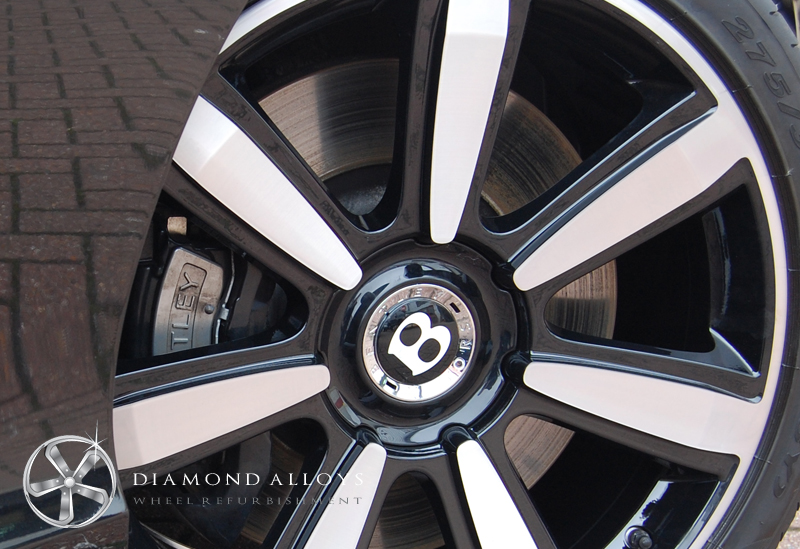 When you own a prestigious Marque like Bentley it stands to reason you want to care for it and maintain its beauty. However, damage to alloys wheels can easily happen when parking or when driving over potholes. The good news is you don't have to buy new every time damage occurs as a simple refurbishment can bring new life back to scuffed rims ensuring the cars beauty is restored.
London based alloy wheel specialist Diamond Alloys regularly cares for alloy wheels from top Marques. Take a look at these Bentley alloy wheels and see how amazing they look after their refurbishment. Our client wanted to have the alloy inserts painted a stunning black gloss to match the cars body work, with a diamond cut face which really highlights the 7 spoke alloy design and makes the Bentley logo stand out beautifully.
Our technicians have many years of training and are highly skilled in the different processes involved to produce a quality finish like this. All wheels are powder coated for a great surface to work from. This helps cover and blemished for a great finished look. Wheels are them painted, cut on the lathe in house by a diamond cut specialist before having a protective layer of lacquer applied.
If you are not sure what finish you would like, then take a look at our gallery for some inspiration, alternatively pop down and see us and out technicians will be able to offer you some great advice. We are open weekdays and Saturdays for your convenience. Call us now on 0845 370 8881 or get a quick quote online!