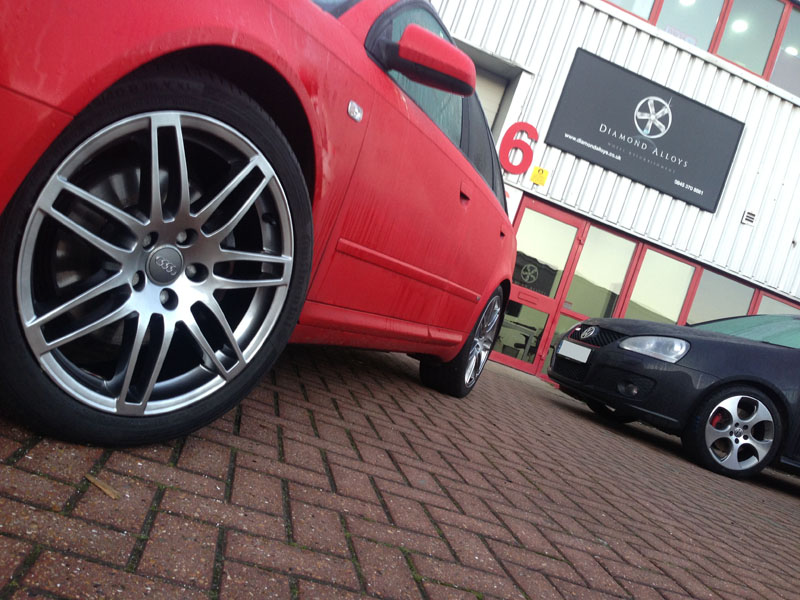 Diamond Alloys offers customers a variety of finishes for their alloys to either give them a great new look or to help repair scuffs and scrapes often as a result of parking to close to kerbs.
These pictures illustrate the popular shadow chrome painted finish ideal for revamping tired alloy wheels. A shadow chrome alloy wheel finish gives the alloy wheel the effect of a metal finish in the paint. Achieving this look requires dedicated time and skill; more than required for a standard painted finish.
Our paint technicians are highly skilled and can easily shadow chrome car or bike alloy wheels at our West London based alloy wheel refurbishment center.
The wheel is prepared in the same way as a standard refurbishment but an additional lacquered ground coat is applied to the wheel. Following this a very fine silver dust is carefully applied in layers to allow the gloss of the ground coat to shine through. The wheel is lacquered a second time which seals the layers of silver power creating a 'double gloss' effect. The end result is a highly reflective surface and an enhanced metallic appearance.
If you want to have a shadow chrome finish applied to your alloy wheels, just like the ones featured on the Audi pictured here, simply call our customer care advisors who will be happy to give you more details about all our services and prices. Call now on 0845 370 2222.