At Diamond Alloys our well experienced technicians offer a premium range of services which give your damaged alloy wheels a new look. Pictured below are our latest alloy wheels which have just come out from our west London alloy wheel refurbishment center.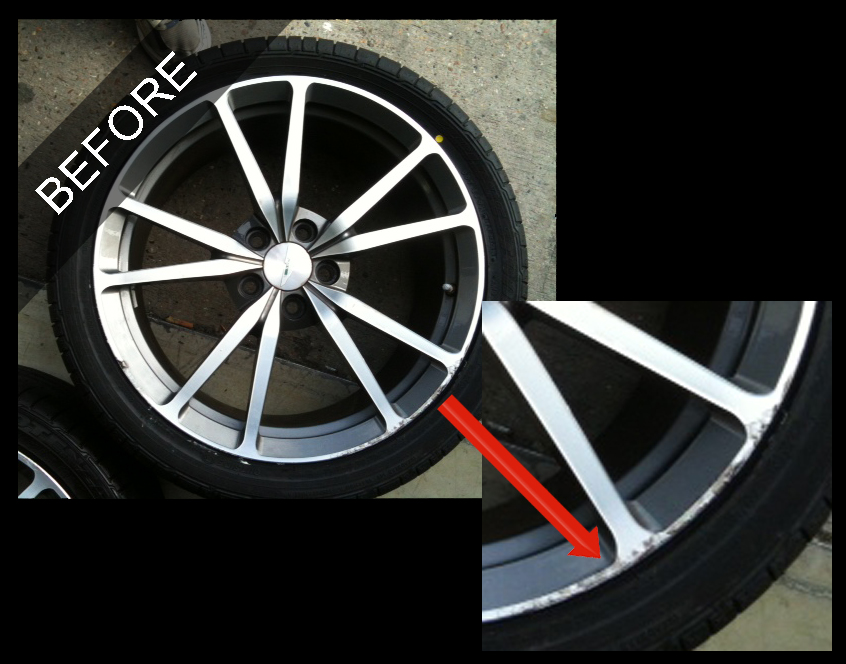 Take a look at the before picture which shows the kerbing damage sustained and then take a look at our gallery below to see how we have removed this damage and restored the look of these Aston Martin alloy wheels. It is easy to see why our Diamond Cut service is so popular!
Our Diamond Cut process is a premium process which offers the finest finish for your alloy wheels, only removing from the rims the smallest amount of metal that is required to restore the look of your wheels. Diamond cut alloy wheels do need specialist care and servicing so we advise you read our tips to keep them in top condition or ask our specialists who can advise what you should do to prevent further damage.
Diamond cut is our most popular alloy wheel refurbishment service, standard refurbishment and bespoke finish services are also very desired finishes, take a look at our gallery and see if there is something you like!
We can refurbish all types of car and bike alloy wheels and have the expertise to look after top end marques including Bentley alloy wheels, Porsche alloy wheels, Audi alloy wheels, Mercedes alloy wheels and many others. We are trusted by many main vehicle dealerships, body shop repair centers and leasing/car hire companies for their alloy wheel repair work, so you can rest assured we have the skills to give your wheels a great finish
Contact us at 0845 370 8881 now to see what our technicians can do for you!