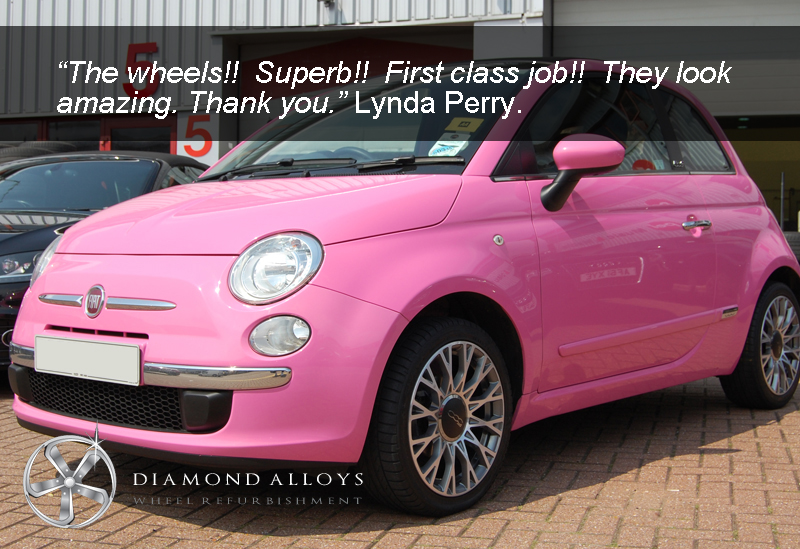 If you love your car, then you'll want it looking good then beautifully restored alloy wheels will add the finishing touch to any cute car. Customer Lynda Perry bought her adorable pink Fiat 500 to Diamond Alloys to have the alloy wheels refurbished because they had quite bad kerbing damage, as you can see in the gallery below. However, this was a quick fix for our guys and Lynda was thrilled with the results. After repairing the kerb damage, our guys applied a Ferric Grey paint which compliments the pink car beautifully and then finish the alloy with a diamond cut face for a truly stunning effect. Take a look at the before and after shots and you will see what a great transformation our guys achieved and how great they look back on the car.
Lynda was not only impressed with the finish, but was also delighted with our service. Here's what she had to say. "I am more than happy to provide a testimonial as I was genuinely impressed by your service from start to finish."
"The whole experience was extremely positive from my initial interaction via your website, I received an immediate response.  During the process of obtaining quotations, I discovered that there are very few alloy wheel repair companies who are actually able to undertake diamond cut alloys and of course Diamond Alloys quickly confirmed that they were able to do the work and following submission of photos of all 4 wheels – all of which were in very poor condition all round – I received a quotation.  All communication was dealt with efficiently."
Lynda went on to comment "I had had some concerns with the fact that I would have to leave a valuable asset in an area I was unfamiliar with but your site, on a business park, gave me comfort that my vehicle would be secure – not to mention the number of prestige vehicles parked outside your unit with all 4 wheels removed.  That gave me great comfort for two reasons: security and the fact that my daughter wasn't the only person in the UK to damage all 4 wheels!!"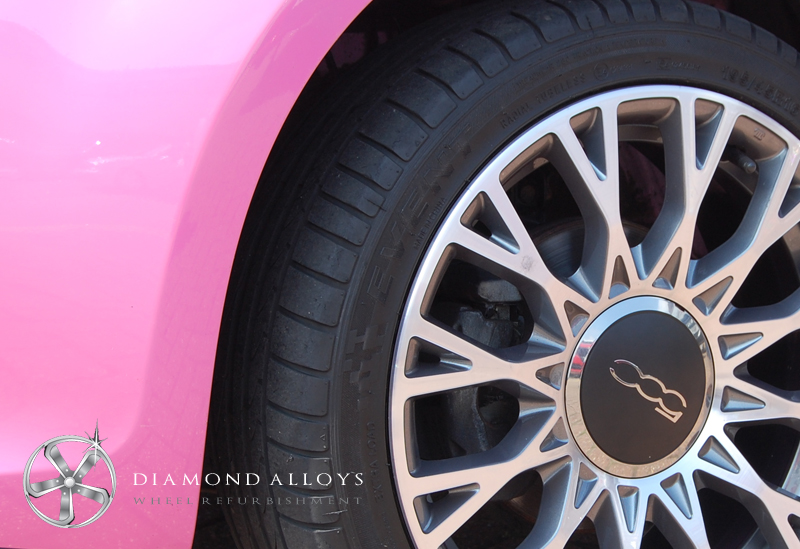 "I liked the fact that my vehicle was carefully booked in, with a full appraisal of the bodywork when I dropped it off.  Your communication by email, telephone and in person was extremely welcoming yet efficient.  As a woman it can be intimidating to visit garages or anything to do with cars but this was not the case at all dealing with Diamond Alloys. I did obtain quotations which were marginally less but I was not presented with the same professional image provided by yourselves."
Her final words……."Oh – and the wheels!!  Superb!!  First class job!!  They look amazing. Thank you." It is so gratifying when we get feedback from customers, especially when it is a good as this. A huge thanks to Lynda for taking the time to send us such a great testimonial, it has been passed on to the whole team. If you would like to try out our great service, then call us on 0845 370 8881 or get a quotation on-line here.